Someone asked me this question this past weekend (I am consolidating the question), "
Do we needed to ask God for forgiveness in order to be forgiven?
".




How do we receive forgiveness?
Well, regarding salvation, I see that
X is forgiv
en by taking Jesus as X's savior
(through faith, belief).
We are not forgiven based on good works, praying certain formulas, or other human efforts.
We are forgiven through God's grace by faith in Jesus as savior.
-John 3:16, Romans 3:23, Romans 5:1, Romans 5:6-9, Ephesians 2:8-10, Romans 10:9,13, Romans 8:1, Romans 6:23, Mark 1:15
Note: There are also some things that accompany salvation, things that a redeemed person is quick to do. If someone refuses to do these, no life changing faith has taken root, they are still in their sin. With new life, comes a desire to confess, repent, and be identified with Jesus (baptism). This also has definitely been my experience.
1. Confess with their mouth that Jesus is their lord (Romans 10:9-10).
2. Repent, turn from a self-directed life & pursue honoring God. I would say that repentance is the most inseperable of all of these. Because no one can come to Christ unless they realize that they sin and need help (1 John 1:8-10, Mark 1:15).
3. Baptism, symbolizing/ making an outward sign of an inward change. Baptism also means to be identified as a follower of Jesus.

Some funn
y questions to make the point-
1. Can someone be a Christian and refuse to call Jesus their God, Lord?
2. Can someone come to Jesus for salvation without realizing that they need salvation?
3. Can someone accept Jesus as savior, but reject him as lord/leader?
4. Can someone accept Jesus as savior, but refuse to be obedient to him? This tells me that their is no heart change. This would show that the heart is unredeemed.
What about asking for forgiveness?
There are passages in the Bible that tell us that we have to do other things to receive God's forgiveness.
1 John 1:5–10

(NAS) — 5

This is the message we

have heard from Him and announce to you, that God is Light, and in Him there is no darkness at all.

6

If we say that we have fellowship with Him and yet walk in the darkness, we lie and do not practice the

truth;

7

but if we walk in the Light as He Himself is in the Light, we have fellowship with one another, and the blood of Jesus His Son cleanses us from all sin.

8

If we say that we have no sin, we are deceiving ourselves and the truth is not in us.

9

If we confess our sins, He is faithful and righteous to forgive us our sins and to cleanse us from all unrighteousness.

10

If we say that we have not sinned, we make Him a liar and His word is not in us.
Well, this, I believe, is a call to humility. To admitting that you are in need of a savior.
Example:
This bumper sticker is controversial-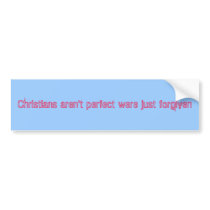 For me, as a Christian, this bumper sticker says, foremost, Christians know they aren't perfect, but know that we are forgiven through faith in Jesus. Of all people, Christians realize they aren't perfect. I say this because, why else would they have come to know they need a savior?
Other passages:
1. Matthew 6:12-
Matthew 6:12

(NAS) — 12

'And forgive us our debts, as we also have forgiven our debtors.
Actually, this is the only New Testament passage that tells us to ask God to forgive us. But we also need to note that this is before the cross, before redemption was made, before the price for our sin has been paid. To form a theology for today on having to ask forgiveness, would be a bad idea.
In response, (and in support of this bumper sticker) check out:
Colossians 3:13- Lord forgave you (Colossian Christians)
1 John 2:12-A Christians sins have been forgiven
Acts 10:43- Through His name, everyone who believes in Him receives forgiveness of sins
Ephesians 1:7-We have forgiveness in Him
Revelation 1:5- God has released Christians from their sins
Romans 8:30- in reality, Christians are already glorified
Do Christians still sin? Yes, but because God has changed our hearts, we are in pursuit, not of how we can sin, but how we can live a life that glorifies God.
A Remedy
Salvation is always a matter of the heart!!! Not mere verbage. So here is the deal (according to the Scriptures)-
1. Problem- We all sin, and are therefore separate from God (who is holy & just).
2. Remedy- Jesus shed His blood to pay the price for our sin. He rose again physically so that we can also rise and walk in newness of life & have an eternal relationship with God.
3. Solution- those who take Jesus to be their hope of salvation (their savior), will receive this salvation and forgiveness of all sin. Those who decide not to take Jesus as their savior, remain unforgiven and guilty before God.
Personal questions
- do you realize that you offend God and need salvation? Have you received Jesus as your savior & is it your desire to let Him lead your life? What's stopping you from doing this today?
Reminder- There is a sense of urgency here. Tonight, tomorrow is not guaranteed. And we only have this lifetime to make this important decision. Why not do it today?